Brianne Abramowicz
Brianne Abramowicz completed her MBA at UNC Kenan-Flagler Business School concentrating in Entrepreneurship & Sustainable Enterprise in 2015. She is originally from New Jersey and holds a B.S. in Finance with a minor in Spanish from the University of Delaware. After graduating in 2006, Brianne volunteered for a small, but growing farmers' cooperative in Oaxaca, Mexico; here she developed & managed the expansion strategy for the grocery category.
Upon completion of this project, she returned to the US to pursue a career in banking where she held a broad array of finance roles including mergers & acquisitions, project management, and treasury operations support. This summer Brianne interned for DuPont, assessing new business development opportunities for the Biotechnology division. She has a passion for food technology innovation, particularly within the mobile and e-commerce spaces and hopes to leverage her MBA education and finance background to effect change in our food system. She is now working at Target Foods.
Erin Lenhardt
Erin Lenhardt completed her MBA program at the University of Chicago Booth School of Business in 2015. She served as co-chair for the Food, Environment, Agribusiness, and Development (FEAD) student group. She is also co-chair for the Entrepreneurship and Venture Capital (EVC) club and serves as a Career Advisor for students who are interested in pursuing careers in these fields. She is co-organizing FEAD's Fall Forum as well as EVC's annual Venture Capital Investment Competition.
Erin grew up on an herbal nursery near Columbia, MO and has held a lifetime passion for growing plants and eating and cooking good food. In 2011, she co-founded Norm's Farms, a superfruit start-up dedicated to commercializing the American elderberry. She now serves as CEO. While at Chicago Booth, Erin has interned with two food-focused investment firms: SLoFIG, or the Sustainable Local Food Investment Group, and Bluestein & Associates. She has started her own Consulting Business – The Food Mint.
Erin earned her bachelor's degree from Reed College in 2008. Prior to business school, she worked as Director of Business Development for Calibrate, a small biotechnology services company based in North Carolina. She collects orchids, is an award-winning poet, and has a hound-lab dog named Mo.
Ryan O'Donnell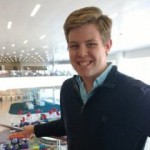 Ryan O'Donnell, is an entrepreneur and graduate of North Carolina State University. He has devoted his life to building teams and organizations that can significantly and sustainable impact our world. At the age of 18, Ryan led the Guinness World Record Food Drive, raising over 550,000 pounds of food in 18 hours. Despite the success of the food drive, Ryan saw how our current system of helping people is profoundly broken and severely limits us from achieving real social progress.
Ryan envisioned a better world; one where great teams could leverage their financial, intellectual, and intellectual capital to maximize their social impact and solve society's most pressing challenges. Over the past four years, Ryan has led three early stage ventures/teams through ideation, development and seed stage funding: Pennies 4 Progress, IMPACTUS, and EMPLOYUS. In addition to his academic and entrepreneurial pursuits, Ryan was chosen to receive the President Clinton Hunger Leadership Award, the Caldwell Fellowship, and the Starting Bloc Fellowship. He is currently the CEO of EmployUs.